So many comics adhere to the standard traits given to the Megaman cast, people start thinking Dr. Light has to be a drunk and Megaman has to be stupid. Truth is, the way the characters behave in the games is rarely reflected in comics. For instance, in most sprite comics, Protoman is pretty much always around... but in the games, he's a loner who ocassionally helps Megaman, but generally stays out of sight. The "stereotypes" have become such clichés that a deviation from them is a breath of fresh air. Use that to your advantage.
The jpeg image format (.jpg) is meant for photos. Jpeg causes the graphics of your comic to blur and slightly scatter, which can be especially obvious when you use large areas of a single color - which will happen a lot in sprite comics. The graphics get dirty and grimy. It's best to stick to either .gif or .png image files, which preserve the colors better.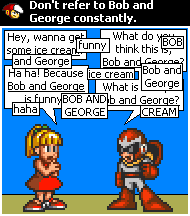 Constant referencing to Bob and George. It can happen when you want to make it clear to the world that you do love BnG, but it gets tiresome easily. This kind of cross-referencing is funny only when authors of both comics do it. Just stick to what makes your comic unique.
Generally, "standard plots" are either early plotlines from Bob and George, or just the kind of stuff that everyone who wants to make their characters fight something comes up with. Common examples would be a sudden, inexplicable attack of robot masters (often unchanged sprites just randomly picked from various games), or the characters rebelling against the author because they don't want to be part of the comic. When you're just starting off a comic, especially one with no new characters, it's an easy step-up to a plot of your own... but remember that people might easily dismiss your comic when there's nothing new happening.
As you start your comic and go off to plunder sprite sites for stuff you can use, you may come across a lot of characters you want to use... even though they visually clash completely with the regular characters. Most people use 16-bit sprites (SNES, Sega Genesis/Megadrive). If you do, it's not a good idea to incorporate 8-bit sprites (NES, Gameboy) or 32-bit sprites (Playstation). A comic's at it best when everything looks like it belongs together.